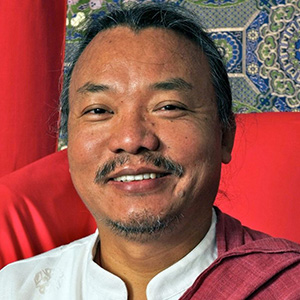 The resident teacher at Lhundrup Choling is Khenpo Sonam. He from Bhutan and studied for his Khenpo degree in Nepal, Sikkim and Bhutan. He arrived in the United States in 1999, spending nine years in Pema Osel Ling Dharma center in Northern California before arriving in Los Angeles.
Holder of a number of lineages, Khenpo focuses his teachings on the Longchen Nyingthig and Dudjom Tersar lineages. He has studied with a number of masters including Kyabje Dudjom Rinpoche, Kyabje Chatral Rinpoche, Khenchen Rigdzin Dorje Rinpoche, and his Root Lama, Kyabje Thinley Norbu Rinpoche
Completely fluent in English, Khenpo Sonam is known for his ability to communicate the most difficult Buddhist concepts in a way that makes them accessible for his students. Khenpo currently resides at LCL in West LA with his wife, Tshering, and their children.
---
VISITING TEACHERS:
Our center has been blessed with visiting Lamas who have bestowed teachings, transmissions and empowerments.
H.E. Garchen Rinpoche
Dungse Rigdzin Dorje Rinpoche
H.E. Bhaka Tulku Rinpoche
H.E. Minling Khenchen Rinpoche
H.E. Tulku Sangnak Rinpoche
H.E. Ogyen Tulku Rinpoche
Anam Thupten Rinpoche
H.E. Traga Rinpoche
H.E. Jangkhang Tulku Rinpoche
Lama Pema Dorje Rinpoche
Khenchen Konchok Gyaltshen Rinpoche
H.E. Lhalung Sungtrul Rinpoche
Lama Tharchin Rinpoche
Lama Sonam Tsering Rinpoche
Tulku Jamyang Rinpoche
His Holiness Taklung Tsetrul Rinpoche
H.E. Gangteng Tulku Rinpoche
Tulku Thadral Rinpoche