LHUNDRUP CHOLING is a 501(c) (3) nonprofit religious Buddhist center located in the heart of West Los Angeles. Established in 2008 by Khenpo Sonam to bring the Buddha's teachings to students who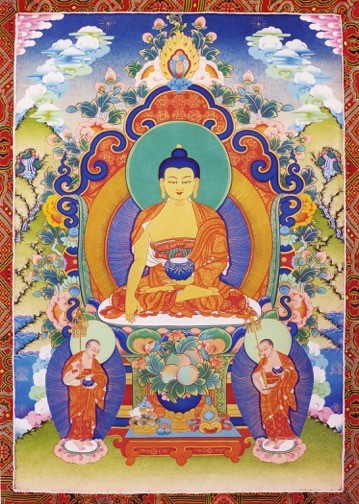 have aspiration and desire to practice. His intention is to support the sangha and students on the spiritual path to enhance their practice. It belongs to the Nyingma lineage of Tibetan Buddhism.
LCL offers weekly classes on both the Oral and the Revealed Treasure Teaching lineage that trace their history back to the historical Buddha Śhākyamuni and to the great Guru Rinpoche who brought the Vajrayana teachings to Tibet in the eighth century.
All who are interested, Buddhist and non-Buddhist alike, are welcome at the center to listen to teachings or to participate in the monthly ceremonies that are held on a regular basis.
Lhundrup Choling offers a comprehensive teaching program in both Mahayāna and Vajrayāna that is unique in Southern California, and rare in other parts of the country. Classical texts along with detailed commentaries are studied in depth. Among the texts that have been taught are Longchen Rabjam's extensive commentary on the Guhyagarbha Tantra, The Thorough Dispelling of the Darkness of the Ten Directions and Luminous Essence, Mipham Rinpoche's guide to the same Tantra. Other teachings will include classic texts by the Indian masters, Nāgārjuna, Āryadeva, Chandrakīrti, and Śhāntideva, Shantrakshita as well as texts from Longchenpa's famous Seven Treasuries.
Classes are offered on Mondays, Wednesdays, and Thursdays as well as on weekends.
The center focusses on:
Studying and practicing liturgies and religious texts
Engaging in prayer and worship
Providing teachings and education in Buddhist philosophy and religious practices
Studying and training on Lord Buddha's teachings and enlightened activities
Studying, translating and compiling sacred Buddhist texts
Preserving the sacred lineage of the Nyingma Vajrayana Buddhism by practice, worship, and teaching of religious texts, philosophy, sacred art and sacred dance